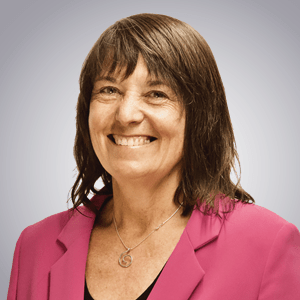 Sue's life-long belief is that every child deserves an excellent education, whatever their starting point and it is her job, and that of the DMAT team to make it happen. 
Sue knew she wanted to become a teacher whilst still at primary school and after a lifetime in education she is still passionate about working with others, leadership, staff development and school improvement. 
Sue has taught cross -phase from Early Years to KS5 in West Sussex, Southwark and Croydon. She has held many leadership roles including as an advisor in Southwark school improvement, Head of Department, Head of Year, Deputy Headteacher, before being appointed as headteacher at Durrington High School (DHS)  in 2003. DHS was one of the largest secondary schools in the country, and was in very challenging circumstances. Sue remained as headteacher, longer than she intended, never finding a school to tempt her away from the students and staff. Together, they created an amazing school, realising the potential that had always been there. DHS has had sustained high performance for many years and is recognised nationally for its work in teaching and learning.
In 2014, with the Chair and Vice Chair of governors, Sue was a founding member of Durrington Multi Academy Trust (DMAT). The  trust now includes; Durrington High School, Durrington Research School (one of only 34 in the country), Laurels Primary School, and the South Downs SCITT (OFSTED rated outstanding). Sue was headteacher and CEO until 2023 when she retired from headship to focus on growing DMAT.
Sue is relentlessly enthusiastic about working with colleagues, school improvement, making a difference and always believing that the impossible is possible! She was extremely proud and humbled to be recognised in the Queen's Jubilee Honours list 2022, being awarded an MBE, for her contribution to education and leadership of schools and DMAT.
For Sue, 'team' runs through everything at DMAT:  ' Children need great teachers, great associate staff, great governors. Every child deserves to go to a great school. That is what continues to inspire and drive me. I am privileged to have worked and continue to work with some of the most amazing and inspirational people, from whom I learn every day. Children only get one chance. We work to make it the best, so that doors are open to them, life choices transformed and dreams are possible'.